23-03-2017
The Chennai Telephones Administration has issued order for Phase-II training for 13 JTOs. We have been continuously pursuing with the Administration for arranging Phase-II training for the JTOS. The eligible left out JTOs will be sent for Phase-II training soon.
23-03-2017
Chromepet Division AGB meeting held on 18.03.2017 at Chromepet Exchange. CS, VP, ACS Com.A.Vasanthakumar and AS(South) Com.V.Ganesan attended and addressed the meeting. Com.Ezhil killi and Com.Murugavel SDEs from Electrical wing also attended the meeting. The following members have been elected unanimously for the next term, during the meeting.President : Com.K.Rajasekar AGM TBMVice President : Com.Asha SDE TBMSecretary : Com.S.Pandian SDE TXM TBMAsst.Secretary : Com.Sundar Singh JTO TXM CMTTreasurer : Com.S.Krishnamurthy PA to DGM NWO-CFA-ChromepetExecutive Members:1. Com. Ravichandran JTO2. Com.Shanmuga sundaram JTODuring the meeting the following issues were discussed:
Requirement of staff for Hasthinapuram CSC /RSU/Nagelkeni RSU/ TXM CMT
Requirement of 5 pair cables
Allotment of drop wire for maintenance
Requirement of PCs for CSCs/Field units
Provision for pillar rehabilitation in cable fault attending tender
Vehicle for TXM units
Non-acknowledgement of files at Accounts wing leads to misplacement of files and some files are returned with objection after lapse of months.
CS on his address assured the local issues will be taken up at appropriate level and further explained in detail the status of E2/E3 pay scales, CPSU Cadre hierarchy, 30% Superannuation benefits to BSNL recruited staff and other cadre related issues. Vote of thanks delivered by Com.S.Krishnamurthy Treasurer.
18-03-2017
All the AIBSNLEA members working at Inspection circle, Chennai has joined in SNEA. AGB meeting of Inspection circle,Chennai held on 15.03.2017 at Raj Bhavan Exchange. CS, CTr, ACS Com.A.Vasanthakumar, DS STM and Com.Nagendran SDE GSM A/T attended and addressed the meeting. The following members have been elected unanimously for the next term.
President : Com.B.Sekar Babu DE
Vice President : Com.Chitra Suresh DE
Secretary : Com.S.Balakrishnan SDE
Asst. Secretary : Com.P.Devika SDE
Treasurer : Com. Radha Venkatesan DE
Organising Secretary : Com.G.Johnson SDE
Executive Committee Members:
1. Com.P.S.Venkataramani SDE
2. Com.S.Sabiya Beevi SDE
3. Com.R.Ganesh JTO
CS appreciated all the members for their wise decision in joining SNEA, the only Recognised Association in BSNL. On behalf of SNEA, Chennai Telepones, CS welcomed all the members wholeheartedly. CS explained in detail about the status of E2 and E3 payscales, CPSU Cadre Hierarchy, DE to DGM promotions, 30% superannuation benefits to BSNL recruited employees and other cadre related issues. CS explained the decisions taken in the CWC meet held at Hyderabad. CS assured that SNEA, Chennai Telephones as well as CHQ will extend its full support in resolving the issues pertaining to Inspection circle.

17-03-2017
FR22(1)(a)(1) fixation for the Officiating JTOs:

The list of TTAs officiated as JTOs and name included in the case filed by SNEA in PCAT New Delhi is already endorsed to Circles. The judgment covers all the SNEA members.
Few Circles reported that some names are not included in the list. All CSs and SSA Secretaries are requested to verify missing name and the consolidated list of SNEA members not included in the list may be send to CHQ by the CSs with covering letter, after ascertaining that they are SNEA members. The list may reach CHQ by 31.03.2017. The missing names will be endorsed by BSNLCO. Since this will be the last opportunity, it should be ensured that all the missing names are included.
Chennai Telephones SNEA Members whose names are not available in the list endorsed by BSNL CO may send the details of Name,HRNo,Unit and Date of Joining as Regular JTO to Circle Secretary through e-mail asunmeen@yahoo.co.in.

16-03-2017
Positive developments on CPSU Cadre Hierarchy:
The meetings with CMD and DIR(HR) on CPSU Hierarchy yesterday (15.03.2017)had very positive outcome. After discussion and on our continuous persuasion, it was agreed that CPSU Hierarchy implementation will be delinked from HR Plan finalization. The CPSU Hierarchy finalization was delayed as it is linked with finalization of HR Plan. Further DIR(HR) agreed that the presentation on the proposal will be done next week itself and she will dedicate one day exclusive for that.
HR Plan finalization will have huge implications if CPSU Hierarchy is not implemented by that time. In HR plan, number of posts will be drastically reduced considering the huge closure in land line connections. The present post sanction is based on 2004 working connections. For example, the number of SDE posts will come down from 25,000 to 18,000 as per HR plan. In that case 7,000 SDE vacancies will be reduced and resultant total SDE vacancies will be around 4000, putting a big question mark on SDE promotion itself. Same situation will be there in other wings also. So, CPSU Hierarchy has to be implemented at any cost immediately. Otherwise, the day HR Plan approved by BSNL Board, all vacancies in all the cadres will be drastically reduced making post based promotions a nightmare.
This is another reason, which others may not be understood, why SNEA is giving highest priority to CPSU Hierarchy. HR plan finalization is equally important as all other HR issues approval in the Board is depending on it.
GS, President and Jt Sec met PGM(Estt) on 15.03.2017 and held discussions on the following subjects:
a) Progress in the Committee meeting on pay parity issue of Rs 22820 for post 2007 recruited JTO/JAOs: As informed by the Chairman of the Committee earlier, PGM(Estt) also informed that in the first meeting of the committee, it was decided to wait for the outcome of the BSNL proposal for E2 and E3 scales. The committee given an interim report in this regard. The anomaly can be assessed after the finalization of the pay scales, now only provisional pay scales are given. After E2, E3 approval, committee will meet and submit the final report.
b) Committee meeting on Terms Insurance for the BSNL directly recruited employees, replacing GSLIS:
We requested to convene the meeting at the earliest to work out the modalities. We explained the issue, Superannuation benefits will be eligible only after 15 years and the advantage in going for Term Insurance as the premium will be very less. It will be a voluntary scheme. PGM(Estt) assured to convene the meeting at the earliest.
It has been decided that the Two days Relay Hunger strike on 16th and 17th March, 2017 will not be held for now. However there will not be any change in the TU programmes from 11.04.2017 onwards. Since regular Secretary DoT has not joined so far, decision on E1A and E2A pay scales may take some time. DIR(HR) tried to arrange a meeting with Secretary for the last one week but could not materialize as regular Secretary not available. CMD also tried to discuss the issue with Secretary and resolve it. Yesterday DIR(HR) written a DO letter also to AS(T) citing the Trade Union Notice of the recognized Executive Association in BSNL and requested DoT for early approval of the proposal by BSNL for revision on E1A and E2A scales.
Today DIR(HR) invited SNEA for discussion and explained the developments and appealed not to go for agitation till regular Secretary joins in DoT.
Morning we had discussion with CMD also. Both assured us to use their good office to settle the issue as soon as new Secretary joins.
14-03-2017
DoT Approval for standard pay scales of E2 and E3 replacing the intermediary pay scales of E1A and E2A w.e.f 01.01.2007 for JTO/JAOs and SDE/AOs as per 2nd PRC.
Two days Hunger strike on 16th and 17th March, 2017

The relay hunger strike on 16.03.2017 will be held at O/o CGM, Tamil Nadu Circle, Greams Road,Chennai-6 and on 17.03.2017 at O/o CGM,Chennai Telephones. All the office bearers are requested to mobilize and ensure maximum participation at both the places.

Union cabinet decided to implement standard pay scales in all CPSUs. DPE issued guidelines and clarification strictly directing all the CPSUs and Administrative Ministries on 26.11.2008, 02.04.2009 and 24.12.2012 to implement standard pay scales. DPE further directed BSNL and DoT on 09.07.2014 to implement standard pay scales only.
BSNL recommended standard pay scales on 06.06.2016, 9 months back. Again BSNL gave a presentation to DoT on 10.02.2017 to approve E2 and E3 scales only without cascading effect, with the approval of MC as it will address DoT concern.
Some negative forces in DoT are decided to demote the cadres to E1 and E2 scales or to extend on E1A and E2A instead of E2 and E3. DoT will be taking a decision on BSNL proposal based on the suggestion of the few negative officers in DoT shortly.
It is the time for all the BSNL Executives to mount pressure on DoT and BSNL Management to approve standard pay scales of E2 and E3 only. It is a do or die situation for BSNL Executives.
Be United, come out and join the struggle from 16th March onwards for approving the standard pay scales of E2 and E3, for getting E2 scale instead of E1, for addressing the pay loss and for the recognition and status of the JTO/JAO/SDE/AO equivalent cadres.

10-03-2017
Circle Secretary addressed letter to CGM on posting order to AGMs and filling up of DGM positions.
08-03-2017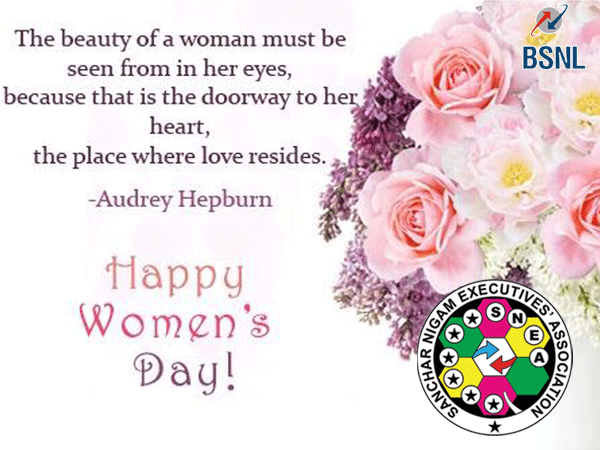 07-03-2017
Forum of BSNL Unions and Associations Lunch hour demonstration on 9th March, 2017 at Flower Bazzar Telephone Exchange:
Demands:-
a) Opposing Niti Ayogs proposal for Closure and transfer of BSNL assets to State Govts.
b) Opposing formation of Subsidiary Tower Company.
c) Demanding allotment of 4G spectrum, free of cost, to BSNL.
d) Opposing favours being extended to Reliance Jio.

All the members are requested to participate and make the program a grand success.

06-03-2017
CP and CS met GM(HR&Admn) on 04.03.2017 and discussed the following issues:1. Sending APARs for DE to Adhoc DGM promotion to BSNL CO:We have informed to GM(HR&A) that except CHTD all the circles have sent the APARs for DE to Adhoc DGM promotion. The last date given to CHTD is 07.03.17. GM(HR&A) assured us that all the pending APARs will be sent positively by 06.03.2017.
2.Filling up of all the DGM vacancies at CHTD:

We have requested GM(HR&A) to fill up all the DGM vacancies immediately. GM(HR&A) informed that DPC is over and we are waiting for e-VC as an when admin receives e-VC the orders will be issued.

3. Phase-II training for JTOs:Around 100 JTOs are waiting for phase-II training. Even after sending the details sought by BRBRAITT, Jabalpur, the phase-II schedule is pending. We have requested GM(HR&A) to intervene and arrange Phase-II training for the JTOs at the earliest. GM(HR&A) agreed and instructed DGM(HR&A) to write letter in this regard.4.Workshop or Hands-on training for e-APAR:Since e-APAR is to be effected from 2016-17, we have requested GM(HR&A) to arrange a workshop or Hands-on training to all the Executives Business Area-wise. GM(HR&A) agreed.5. Publication of long-stay list in SDE/DE/DGM cadre:We have informed to GM(HR&A) that this issue was already discussed in the last meeting, but the lists have not been published. GM(HR&A) instructed to DGM(HR&A) to publish the list soon.
06-03-2017
Implementation of Hon CAT judgement in OA No.1282 / 2010 Fixation of pay uder FR 22(1)(a)(i) to the Members of SNEA, who were Screening test passed & officiating in the grade of JTO- reg. View Corporate office order:
06-03-2017
Fax message and email to be sent to Secretary, DoT on 07.03.2017 with copy to Hon MOS and CMD.

Attention by all Divisional Secretaries:
Fax message and email to be sent to Secretary, DoT on 07.03.2017 with copy to Hon MOS and CMD on E2, E3 pay scales.
Email id of Secretary, DoT: secy-dot@nic.in
Fax No of Secretary, DoT: 01123711514
Email id of MOS: mosc-office@gov.in
Fax No of MOS: 01123723330
Email id of CMD, BSNL: cmdbsnl@bsnl.co.in
Fax No of CMD/BSNL: 01123372444
Sanchar Nigam Executives Association

(Only Recognised Executives Association in BSNL)
To
Secretary/DOT, Sanchar Bhavan, New Delhi.
Respected Sir,
Kindly approve the BSNL decision to replace the intermediary pay scales of E1A and E2A by standard pay scales of E2 and E3 w.e.f 01.01.2007, based on the Union Cabinet decisions and DPE guidelines dated 26.11.2008 and DPE direction to DoT dated 09.07.2014.
Yours faithfully,
(Name)
Circle/SSA/Division/Branch Secretary
----------Circle/SSA/Division/Branch
Copy to:
1) Shri. Manoj Sinha, Hon MoS for Telecommunications, Govt of India.
2) Shri. Anupam Shrivastava, CMD/BSNL.